Question
I sent an email, but it bounced and returned a Non-Delivery Report (NDR) with the following error: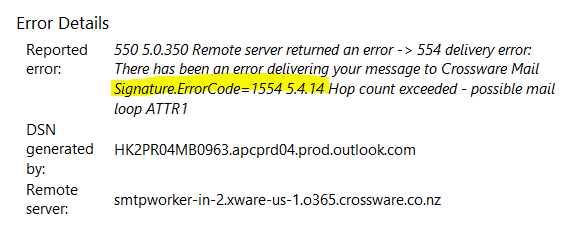 Above: Example screenshot of Error Code 1554 5.4.14 Hop count exceeded
Reported error: 550 5.0.350 Remote server returned an error -> 554 delivery error: There has been an error delivering your message to Crossware Mail Signature.ErrorCode=1554 5.4.14 Hop count exceeded - possible mail loop ATTR1  
Solution
Your issue is most likely being caused by a missing field in your Crossware Transport Rule. This will require access to your Microsoft 365 environment.  
1. Log in to Microsoft 365, and access the Exchange Admin Center.

2. Click Mail Flow > Rules

3. Find the Crossware Transport Rule.


4. Check the Except if... section. It should contain the following field set highlighted in yellow below.


5. If this fieldset is missing, please add it by clicking Add Exception > A message header > matches these text patterns.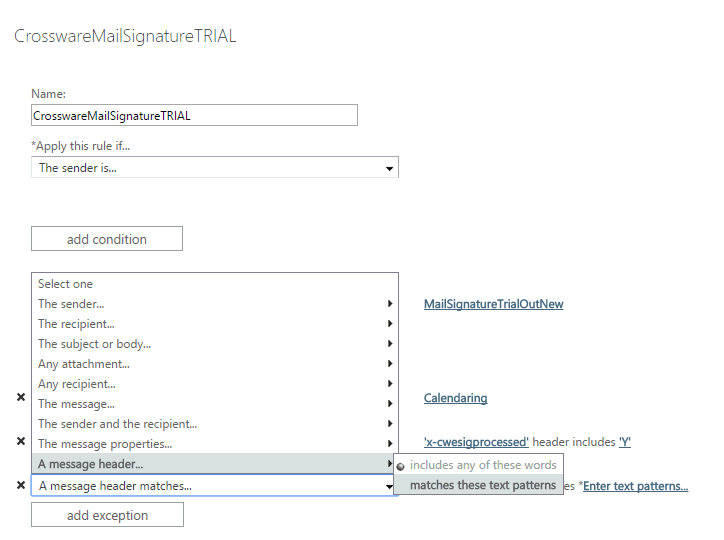 6. You can then edit the two placeholder text for both "A message header...", by clicking it and typing in x-cwesigprocessed and "Enter text patterns..." by clicking it and typing in Y.

7. Save the Crossware Transport Rule and you're all done.