Admin Overview
The
Admin
section allows you to further customise signatures using Fields, Rules and Metadata as well as to check your Signature's Health using logs.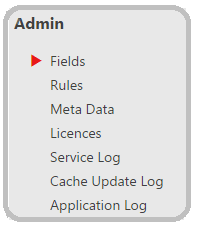 Fields
This section is where you can create customised fields, using lookups to Active Directory, lookups to saved images, or by writing code to return any values.  
Rules
This section allows you to define criteria which can be applied to signatures and signature blocks to determine when they are applied. A rule always return True or False (apply or don't apply a signature).  
Metadata
The Metadata settings give you options to set specific rules for processing email signatures.  
Licences
This section contains the licence key for Crossware Mail Signature.  
Service Log
The Service Log provides you detailed information about your Crossware Tenant
(for CMS M365)
or Crossware Installation
(for CMS MSE)
.  
Cache Log
A view where you can see details of cache updates.  
Application Log
A log view on Mail Signature processing.