To determine whether an e-mail has been processed by Crossware Mail Signature, it is possible to check the fields that are added to the e-mail during the processing.
You can view the properties in Outlook: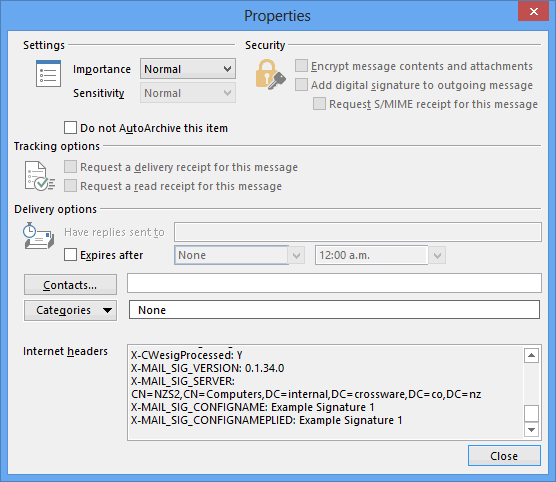 These fields are added regardless of whether a signature has been appended:  
1. X-CWEsigProcessed
This field is set to "Y" when the application has processed the e-mail. This field is used to tell other servers that may process the email that is has already been processed.

2. X-MAIL_SIG_SERVER field
This field contains the server that processed the e-mail.

3. MAIL_SIG_VERSION
This field contains the version of the software that processed it.

4. MAIL_SIG_CONFIGNAME
The name of the mail signature configuration document that was applied.

5. MAIL_SIG_CONFIGNAME_APPLIED
The name of the configuration document(s) applied.

For Main and Signature Block type configuration documents, it will include the main configuration document and the signature blocks applied.

For Linked only signatures, this will only contain the signature block applied.
 
NOTE: If the main configuration is set to "Reply only" or "New Emails Only", they will still appear in this field.