Crossware Mail Signature allows you to pull information from any Domino database.

To do this, a lookup configuration document is required.

The signature configuration database is pre-populated with commonly used fields, however if you wish to configure additional fields that pull more information from the domino directory or another application, create a new lookup document.
 
Creating a New Lookup Configuration

To create a new lookup configuration, open the lookup configuration view within the configuration database. If you do not see the lookup configuration view, it is because your access rights do not allow you to modify or create new lookups.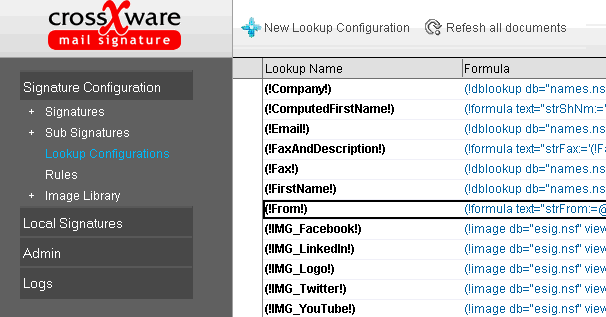 You will be presented with a lookup configuration form.

See the example below for an example of a lookup defined for pulling the fax number from the domino directory (names.nsf).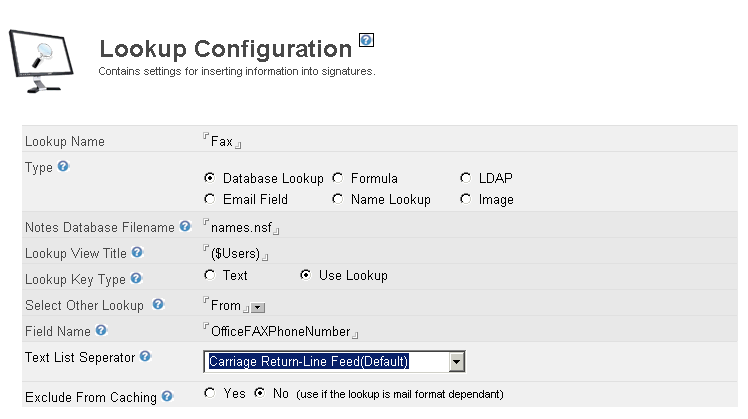 Lookup Configuration fields
Lookup Name
This is the name that you assign to the lookup.
The name can be anything you want, and is used in the signature configuration form when you click Insert Lookup.
 
Type
The type field allows you to select the type of lookup.
The most simplest form is a database lookup, but changing the radio button allows you to access fields within the senders email (Email Field), access data from an LDAP source (LDAP), data from Directory Assistance (Name Lookup), insert an image(Image Lookup) or code an @Formula (Formula)
 
Notes Database Filename
The filename / filepath to the database that you wish to extract data from.
You should ensure that this database has the same path on all servers Crossware Mail Signature is installed.
 
Lookup View Title
View in the domino database that will be used as a lookup.
The view will need a sorted column to allow the lookup to work correctly.
 
Lookup Key Type
Two options can be selected depending on the type of lookup to be performed.
 
Text
This option should be used when static text is used as the key.
 
Use Lookup
This allows another look-up to be used for the key.
 
Look-up Key Text
The key used to select a document from the above view.
 
Select Other Look-up
Another look-up is used as the key.
 
From Field
The (!From!) look-up document controls which field within the e-mail is used as the key for the lookups.
 
Field Name
The name of a field within the selected document that will be extracted.
 
Text List Separator
Specifies which character is inserted between the values when the fields is a text list.
By default this is a Carriage Return/Line Feed, but this can be any character.
 
Exclude From Caching
Stops the value calculates being cached.
This is useful then the value is dependant of the type of email. e.g. Plain Text and HTML.