To determine whether an e-mail has been processed by Crossware Mail Signature, it is possible to check the fields that are added to the e-mail during the processing.

These fields are added regardless of whether a signature has been appended:

1. CWEsigProcessed

This field is set to Y when the application has processed the e-mail. This field is used to tell other servers that may process the email that is has already been processed.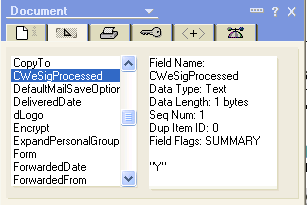 2. MAIL_SIG_SERVER field

This field contains the server that processed the e-mail.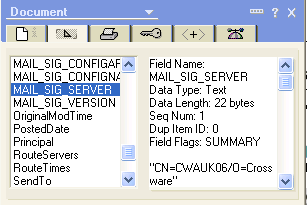 3. MAIL_SIG_VERSION

This field contains the version of the software that processed it.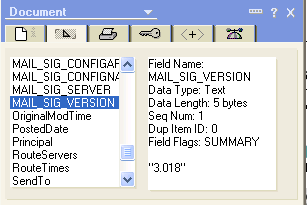 4. MAIL_SIG_CONFIGNAME

The name of the mail signature configuration document that was applied.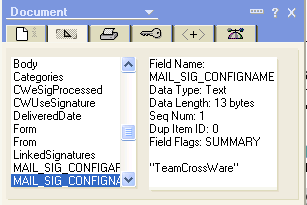 5. MAIL_SIG_CONFIGNAME_APPLIED

The name of the configuration document(s) applied.

For Main and Linked type configuration documents, it will include the main configuration document and the sub-signatures applied.

For Linked only signatures, this will only contain the sub-signatures applied.
 
NOTE: If the main configuration is set to Reply only or New Emails Only, they will still appear in this field.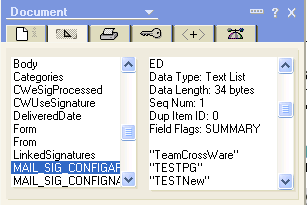 6. MAIL_SIG_PROCESS

The domino process that processed the email.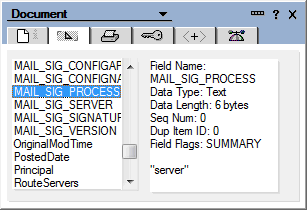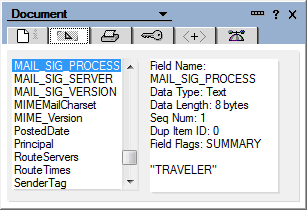 7. MAIL_SIG_SIGNATURENAME

Taken from the Signature Name field in the signature configuration document. This allows the drafts and archived configurations to be distinguished during testing.